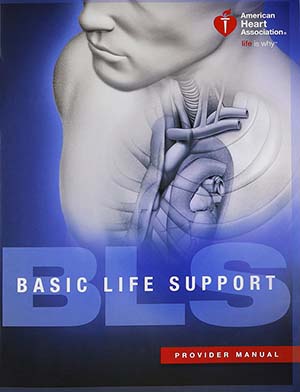 After completing the class, which organization will I be certified through?
You will be certified through the American Heart Association. American Heart Association certification is valid for two years.
I need my CPR certification right away. Do I receive my card as soon as I complete the CPR training course?
Yes, you receive your certification at the end of class.
How much is this going to cost me?
The AHA BLS for Healthcare Providers certification class is $50.00. Payment isn't due until the end of class, so you don't need to worry about paying online beforehand. We accept Debit & Credit Cards, Personal & Business Checks, as well as cash.
The American Heart Association requires that every student have access to the latest BLS Providers book before, during, and after class. You're welcome to borrow one of our copies(we have PLENTY), or you can buy one at the end of class. The book is $15.00, which we sell at cost.
We have AHA BLS for Healthcare Providers classes every Thursday evening from 6:00pm until 9:00pm, and every Saturday morning from 9:00am until Noon. You can view our schedule & register online here:
How do I sign up for a class?
You can view our schedule & register online here:
If you have any questions, you can send a text or call Cindy at 1-805-340-7998